I got a random text message from someone I had crossed paths with a few years back… It was so random that I had to pull the "Sorry, new phone.. who's this?" – introductions aside, he got straight to the point and asked if I would be willing to listen to him and his business ideas.  Me listening turned into a 3 hour conversation on launching his business. 
In the next 3 days, two more people called me for similar type conversations.  
I figure if I get 3 calls in a matter of 3 days, there has to be more people looking for this information, (aha! moment) I will document this journey with my 3 new entrepreneurs so everyone can benefit from our conversations.  
We spoke about:  
1. Passion.
How in love are you with your business idea?  How much time do you spend thinking about it?  How much true passion do you have for that line of work?  (Queue Confucius)  "Choose a job you love, and you will never have to work a day in your life" 
Picture this:  You've had a very rough week but a very productive week.  You busted your ass all week and closed some major sales and made some nice money.  It's now Friday afternoon at 2pm, are you exhausted from your work week?  Are you tired and ready to go to a bar to drink with the guys?  Did you just post TGIF on your Facebook page?  Or do you keep chugging along to finish the week off even stronger?  I know it's very superficial, but understand the concept and not the example.  
So if I have Passion, I can make it as an entrepreneur?  No.  You need more.  Keep reading.  
2.  Work.
We are all lazy.  I'll say it again.  We are all lazy.  Give us all a way to do the least amount of work, while earning as much money as possible…. This model will ensure your failure as an entrepreneur.  Every day, every time.  
Let's break it down a little more.  How much work is enough?  How much do I need to work?  Most successful entrepreneurs will tell you that if you aren't hitting the 60 hours a week mark, you aren't working hard enough. One of my favorite bloggers, Neil Patel openly states that he works 60 to 80 hours a week.
We talk about putting in the work; everyone is always game.  Everyone always says I am willing to put in the work… Nobody imagines how much work 60 to 80 hours a week is until they do it for a week.  Still wondering why entrepreneurs are such a special breed of people?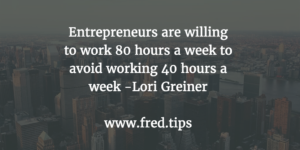 3.  Brainstorm.
Grab your notebook and jot down all of your thoughts on your new business.  Jot down ideas, opportunities, strengths, weaknesses, threats, competition, everything.  
Sketch visuals of your website.  How will it look?  Where will the information go?  How will it flow?  What type of content will you have on the front page?  How will people contact you?  What do you want them to know about you?  
This should be long; it should be a work in progress.  I keep a notebook by my bed incase I have a brilliant moment at 3am while I am feeding milk to my 1-year-old.  
The secret to writing notes down is that there is no right or wrong.  Just write, jot, draw, and sketch.  When you review later, you can always cross things out or move things to new sections.  The rule is, there are no rules.  Develop a system that works for you.  
4.  Website.
You need a .com for your business.  I know you can buy a .net, .tv, .rocks, etc.  You need a .com.  Instant credibility.  
Lately, I have been recommending to everyone to go look through thousands of WordPress Templates online and find one that fits the model they liked during the Brainstorm stage.  Find one that flows like you had envisioned.  Can't find one that works?  That means you lied during the Work stage.  Put in the work, you'll find it.
Themes are fairly inexpensive and are great for keeping costs down while creating a presence online.  Why is an online presence necessary?  Read this:  6 Reasons Why Your Small Business NEEDS a Website
5.  Brand-Awareness.
Everyone's favorite section.  Go create your social media pages.  Go! 
Which platform works for your business? 
Google+: 2,500 Million users
Facebook:  1,590 Million users
Tumblr:  555 Million users
Instagram:  400 Million users
Twitter:  320 Million users
Snapchat:  200 Million users
Pinterest:  100 Million users
LinkedIn:  100 Million users 
Protip:  Don't use one of those account linkage things that allows you to post on Facebook, Instagram, and Twitter at the same time.  If a client is looking at your social media pages to validate you as a business, seeing the same post across all platforms looks lazy and unplanned.  
Reminder:  Be passionate about your work, but not putting in the work will turn your passion into your work.  
Related Article:  6 Must Have Tools to Start Your Startup